Change Your Inner Cards, Win The Outer Game

E-book (English)
A Life Breakthrough Manual. Proven Powerful Methodologies.
By Jensen Siaw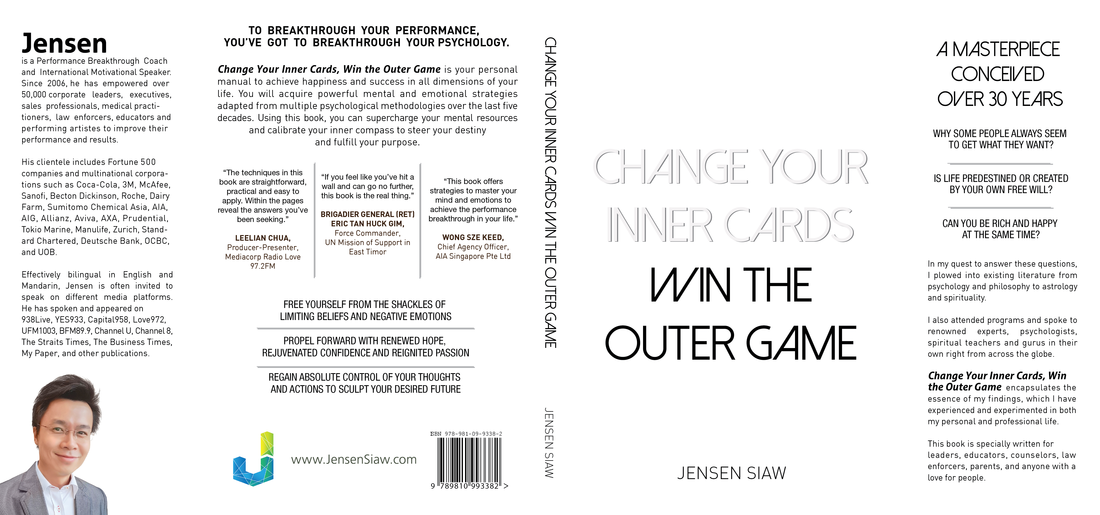 Change Your Inner Cards, Win The Outer Game
Free yourself from the shackles of limiting beliefs and negative emotions
Propel forward with renewed hope, rejuvenated confidence and reignited passion
Regain absolute control of your thoughts and actions to sculpt your desired future
Change Your Inner Cards, Win The Outer Game is your personal manual to achieve happiness and success in all dimensions of your life. You will acquire powerful mental and emotional strategies adapted from multiple psychological methodologies over the last 5 decades. Using this book, you can supercharge your mental resources and calibrate your inner compass to steer your destiny and fulfill your purpose.
What People Say About This Book
Jensen has translated his passion about life and people into a methodology to attain one's best. He has put a step-by-step formula to the understanding of self and achieving desired goals.

This book offers a powerful approach on how to make mindset and behavioral changes for breakthrough performance.

Ronald Tan
Chief Executive, Infinitum Financial Advisory Pte Ltd (subsidiary of NTUC Income Insurance)
Jensen has helped many people unleash their inner potential through his talks. This book offers simple strategies to master your mind and emotions to achieve the performance breakthrough in your life.

Let your journey of breakthrough begin as Jensen leads you in discovering how you can build up your mental resilience with his selfless sharing of personal stories, powerful anecdotes, and analogies.

Wong Sze Keed
​Chief Executive Officer, AIA Singapore
Each time I interact with Jensen I feel as if I'm plugged to a 400kW genset – I become full of positive energy and am ready to take on the world! He has the gift of clearing your doubts; you somehow suddenly know that you have the solution to your most daunting challenge.

If you feel like you've hit a wall and can go no further or do no better, Jensen and this book is the real thing: a boon to all who want to jump to a higher capability curve.


Brigadier General (Ret) Eric Tan Huck GimForce Commander, UN Mission of Support in East Timor
Jensen is a well-known speaker who is able to connect and speaks
to the heart of his audience. This book is powerful as it has varied
mechanics to learn from, to have breakthroughs in one's performance.


On a softer touch, it also gives an insight to one's innermost core
values that look beyond the beliefs, feelings, thoughts, and actions
that make up the content of one's life. I recommend this book to
those who look to achieving the next level of excellence in their
lives, be it in their work or personal lives.

Shirley Lim-Yam,
Qualifying and Life Member, MDRT (Honor Roll)
Prudential Assurance Co. Singapore Pte Ltd
This is a great manual for those seeking to achieve a breakthrough in their life, especially for salespeople and entrepreneurs.

I recommend this book as a life-success and sales-breakthrough manual to fellow life insurance advisers in Asia who aspire to qualify for MDRT, COT, or TOT!

Dato' Sueann Tan
TOT & MDRT Qualifying and Life Member, Allianz Malaysia Berhad
The book brings me into an odyssey of the mind, something often overlooked and yet powerful enough to drive our emotions and our lives. Jensen delves deep into the psyche of our mind and how our subconscious drives our behavior, sometimes to the detriment of our own lives. It makes a good read for anyone who has been 'soul searching' and can't find the answer.

Jennifer Chan
MDRT Qualifying and Life Member (1995-2015), COT (2 YEARS) AIA Singapore Pte Ltd
Jensen Siaw
Chief ​Motivator & Executive Producer
Jensen is a Performance Coach & Sales Motivational Speaker who has spoken to over 250,000 live audience across Asia. Known as a master motivator in the life insurance industry, he has coached MDRT/COT/TOT qualifiers and leaders of Multi-Million Dollar Agencies. His clientele includes AIA, Allianz, Aviva, AXA, Prudential, Tokio Marine, Manulife, Zurich, Great Eastern, NTUC Income, bancassurance partners and other insurers in the region.


Jensen is also the Chief Motivator & CEO at Jensen Siaw International (JSI). JSI is engaged every year by insurance companies to run recruitment seminars, university recruitment programmes, leads generations platforms, and sales breakthrough boot camps. With his live hosting and broadcasting experience, Jensen kickstarted JSI's online events and webinar production capabilities to help insurers and agents thrive above the Coronavirus pandemic. Since COVID-19 hit our shores, Jensen has produced and hosted numerous online motivational talk shows and webinars, reaching over 80,000 virtual audience across Asia.


Recognised for his work in Asia's life insurance industry, Jensen was invited onto the judging panel for Asia Trusted Life Agents and Advisers Awards 2018 to 2020, serving alongside the suite of CEOs and CDOs of various insurers in the region.

In his efforts to reach and empower more people beyond his keynotes and seminars, Effectively bilingual, Jensen has spoken and appeared on numerous media shows on 938Live, YES933, Capital958, Love972, UFM1003, BFM89.9, Channel U, Channel 8, The Straits Times, and The Business Times. He has also authored 2 books: "Change Your Inner Cards, Win The Outer Game" and "7 Days to a New Goal".


Master Trainer of Breakthrough Boot Camp for MDRT Aspirants (2014 - 2019)

Closing keynote speaker at MDRT Day Singapore 2019

Host for first ever virtual MDRT Day Singapore 2020

Executive Producer & Host for MDRT Day Singapore 2021

Producer of webinars & online events for life insurance companies

Virtual Motivational Speaker & Host for online learning conferences